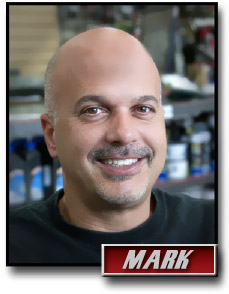 Mark lives in Arizona with his wife and 3 kids. Mororcycles are a "family thing" for Mark. He and his brothers owned 3D Cycle Works - a popular motorcycle shop in Park Ridge, IL - for three years. Although the shop was sold in December, 1999, it is still in business today operating under a different name.
Mark rides a 2011 Harley Davidson Street Glide and he always has at least one Gold Wing around for different rides. Mark says, "Riding out here in the west is incredible! Going up to the mountains and riding in the tight twists and turns this state has to offer is the best!" One of Mark's favorite bike tours was in 1999. A group of 23 people, including Mark and his brother, shipped their bikes from Chicago to Arizona and rode all over the state. It was April, so it was still cold in Chicago and Mark couldn't believe how beautiful the state was. Now that he's living in Arizona, he takes advantage of everything the state has to offer and rides his bike whenever possible!
Mark is extremely committed to D&D and is proud that he and Mel have made customer service their number one priority. That dedication and hard work draws customers from all over the country - and, in fact, from a few other countries as well - to get their bikes or trikes worked on. Some customers come down from Alaska and schedule maintenance while they are here. Others come for the weekend from California, Nevada and New Mexico to have service done on their bikes. Mark's trike customers also come from near and far. He recently shipped a brand new 1800 Gold Wing to Wisconsin and, even with the cost of shipping added in, the customer still paid less money and got a lot more trike than he would have if he had purchased a trike from a local shop. Last year, Mark even shipped one of his customized trikes to Japan!
Mark's most meaningful achievements come from getting a person with a disability back on a motorcycle or trike when they thought they would never be able to ride again. "We have fitted trikes with foot clutches and an electric shifter because a customer lost partial use of his left arm and couldn't squeeze the clutch with his hand. We also fitted a gentleman that had lost one leg and didn't have use of his other leg, with his own specially customized trike. He rode to Daytona Bike Week last year and has put over 20,000 miles on his trike in just one year."